Quality Landscaping Services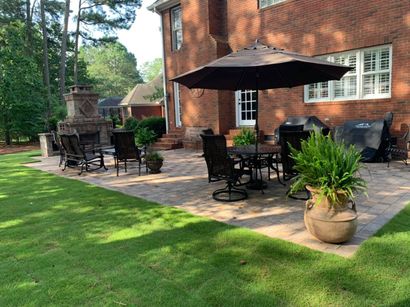 We Specialize in Outdoor Spaces
Landscaper in Rome, GA
Those in need of a landscaper in the Rome, GA, area need look no further. Since 2005, we've built a reputation for professionalism and quality service. We're known for making our customer's vision for outdoor spaces come to life.
Landscaping Services
Services available include:
Outdoor lighting
Hardscape
Retaining walls
Landscape design
Irrigation and sod
Fireplaces
Standard and decorative concrete patios and walkways
Brick, block and stone walkways
Pool installation
Please call us today for an estimate. We provide the expertise and creativity you deserve.
The Picture Perfect Yard
Our Work Will Make Your Vision a Reality
Let us bring your vision for a garden oasis or backyard getaway to life. We specialize in hardscape, outdoor lighting, rock walls and outdoor living spaces perfect for entertaining.
BDS Landscaping will take the time to learn what you need in your ideal outdoor space, whether for poolside entertaining or a garden retreat. We'll help create that space for a reasonable price and with excellent customer service, working with you the whole time.
Our team will review your property to see how we can transform the pathways, gardens, or anything else that is on your property at this time. From landscaping and hardscaping to adding in special elements such as custom outdoor lighting and more, our team is on the job.
Luxurious Outdoor Living Spaces in Rome, GA
Let our experts create the perfect outdoor living space for entertaining and relaxing. We can do it all, from the pool and patio installation to an outdoor fireplace and custom lighting design. You'll want to stay outside as much as possible once BDS Landscape has finished with your property.
Free Estimates Are Available
We take pride in offering fair pricing and quality work. Our team of professionals have an excellent work ethic and attention to detail. Our estimates are based on what you need and want, our ultimate goal is customer satisfaction, and it shows.
Please contact us for a free estimate today.